PURPOSE
To support our communities to build a thriving, inclusive and equitable Taranaki.
RAUTAKI MATUA
Kia toka ia nei te ara whakakaha I te hapori, kia toitū te whenua, kia toitū te tangata, kia toitū te maunga.
Toi Foundation is committed to reducing economic and social disparities by funding where there is the greatest need.
As an organisation, our purpose, strategy and operations are guided by four values – collaborative, focused, integrity and innovative.


Toi Foundation is a philanthropic organisation where our community's success drives everything we do. The foundation supports in traditional, philanthropic ways, while also looking to the future with a focus on strategic and innovative granting and impact investing to achieve even greater long-term, intergenerational and transformational benefits for our communities.
In 1990 – our first year of making grants – we gave out $161,000 in funds. Now our annual grant making runs into the millions, with over $150 million granted since 1990.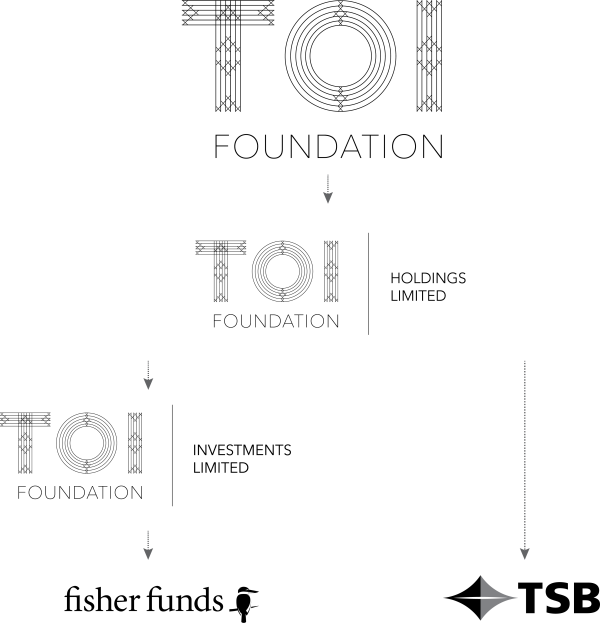 Toi Foundation
Toi Foundation (formerly TSB Community Trust) has a holding company that owns and monitors the foundation's key assets: 100% of TSB Bank Ltd (TSB) and a controlling share in Fisher Funds Management Ltd (Fisher Funds).
Each year, TSB and Fisher Funds pay dividends to the holding company. The holding company then pays dividends to Toi Foundation. These dividends enable the foundation to complete its philanthropic work.
Therefore, if people bank with TSB and have their KiwiSaver with Fisher Funds, they contribute in a supportive and measurable way to the community.